Innovative small and medium sized manufacturers are discovering the groundbreaking level of clarity simulation modeling brings to their production planning, scheduling, and inventory management. In fact, simulation can help answer virtually any "what-if" question, and is especially well suited for questions too expensive or disruptive to answer with physical testing.
Who Uses Simulation Modeling:
Most large manufacturers rely on simulation modeling to make scheduling, production, and inventory decisions. Right now your production team likely uses Excel or tools inside your ERP software to make these same decisions. The difference? Simulation is specific to your system and captures complex details and uncertainties that Excel and ERP tools simply cannot. You don't have to change your actual production system to, for example, test different batch sizes and determine their effect on in-process inventory levels. Simulation allows you to evaluate thousands of alternative scenarios and give your decision-making a granular clarity you've never had before — the same precision enjoyed by the largest manufacturers. Another difference: you don't have an in-house simulation team (or their overhead), you have us.
Who We Are and Why You Should Work With Us:
We are a team of consultants with the expertise and industry experience to bring simulation modeling to your business. We are well suited to work with small to medium sized manufacturers because of our low overhead model, our expertise with Simio, the industry leader in simulation and scheduling software, and our systematic and iterative approach to projects.
The company is led by founder Dr. Jeremy J. Tejada (CV) and Matthew Ballan (CV). When you hire SIMCON you get Jeremy and Matt. We will be deeply involved in your project every step of the way. Jeremy earned a PhD in Industrial and Systems Engineering from North Carolina State University and Matt is a Summa Cum Laude Industrial Engineer (Texas Tech). The SIMCON team has broad experience bringing simulation modeling and lean manufacturing processes to manufacturers around the country.
How Simulation Modeling Works:
The first step: we listen. We want to completely understand the questions you want answered. Once a detailed scope of work is agreed upon, we build a to-scale, 3D model of your manufacturing process using state-of-the-art simulation software.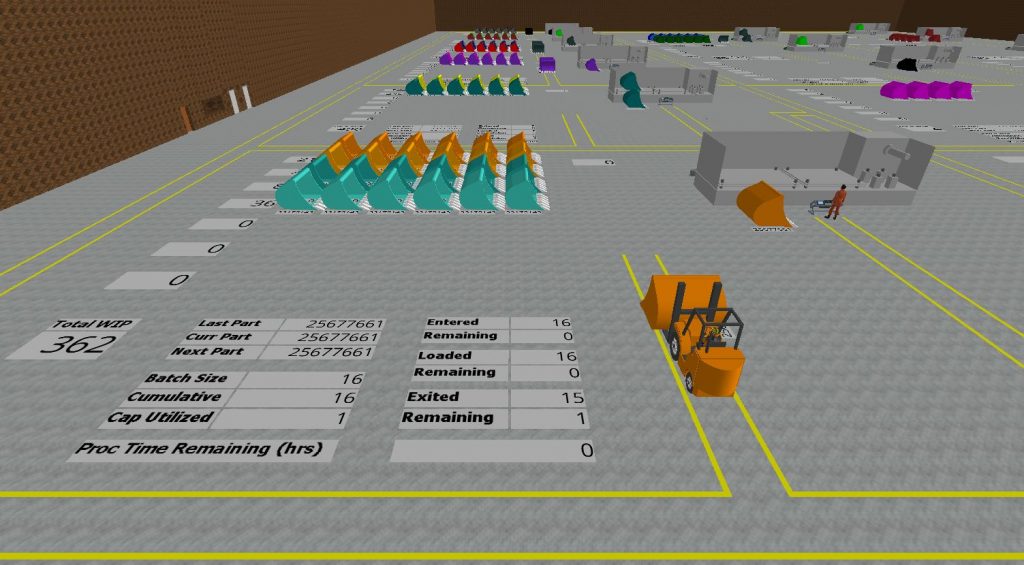 The model captures processing times, machine placement, maintenance schedules, operator and staff schedules, inventory levels and placement, operational procedures and policies, and more. Then can experiment with an almost infinite number of system configurations, which allows us to answer the "what-if" questions most important to you. We provide a case study and video here.
The power of simulation is that, once we model your system, we can utilize that model again and again as new questions and issues arise.
Risk-Based Planning and Scheduling:
Additionally, with Simio we can integrate the simulation model of your system with your daily production scheduling. Every day the software can autonomously run simulations using information it receives from your accounting or ERP system about yesterday's production and future demand. When your production team starts a shift, they'll be provided with multiple risk-optimized production schedules for that day. They can then select the schedule that makes the most sense based on their expertise.
So, now what? Give us a call at 512-693-8280 or email us at contact@simcon-solutions.com. We're engineers just like you (no sales pitch here). We'd love to learn more about your manufacturing process challenges. We're happy to tell you how we can help or, if we can't, we'll tell you that too.